Greece has around 6000 islands, of which around 227 are inhabited.
That might sound not true, but it is, because you have to consider that every little rock is considered as an island, there you go.
Now of the 227 that are inhabited the vast majority is inhabited with one priest, 10 old people maybe some younger fishermen and plenty of goats.
The real inhabited isles are maybe 70 or 90.
If you start from Crete which is the biggest island in Greece and the 5 biggest in the Mediterranean (1st Sicily, 2nd Sardinia, 3rd Cyprus, and 4th Corsica) and then you continue with Rhodes, Lesvos, Corfu, Kefalonia and Eubea then the rest of the islands are much smaller, some with some activity, like Santorini (agriculture, excellent wine), Naxos (marmor, agriculture) or Syros (the capital of the Cyclades) the rest are basically purely touristy (for example Mykonos, Ios or Paros).
The Greek islands are divided in 6 major groups.
The Argo-Saronic Islands in the Saronic gulf near Athens, the Cyclades, a large but dense collection occupying the central part of the Aegean Sea, the North Aegean islands, a loose grouping off the west coast of Turkey, the Dodecanese, another loose collection in the southeast between Crete and Turkey, The Sporades, a small tight group off the coast of Euboea, and the Ionian Islands, located to the west of the mainland in the Ionian Sea.
Find out more for Greek islands holidays
The architecture and culture in each island group is very different, mainly because of historical reasons. For example the Ionian Islands were the only part of Greece that was never occupied by the Turks, therefore the culture and the architecture are very different than for example in the Cyclades islands where you have the narrow little streets (kalderimia) which is a typical Ottoman characteristic.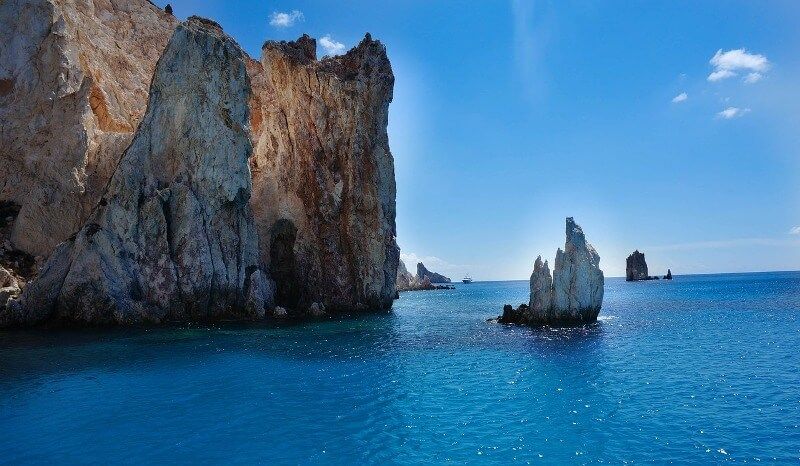 From the other part, the way Tourism developed, each island or island group attracts specific kind of tourists. That is mainly because of the policy of the big tour operators in my opinion.
There are many different ways to do Greek island hopping.
Either you can organize it yourself, (ask me for advise by clicking here), or you can take part on an organized Greek island hopping tours, like the Greek island hopping (many Australians here), do a Greek island hopping cruise (favorite way for Americans), or choose other Greek island hopping packages.
The Greek island hopping routes vary according to the time you have to spend and the islands or routes you want to follow. For example there are cruises that start in Italy, and do the Ionian Islands and Olympia in the Peloponnese while others do the Cyclades islands combined with Rhodes holidays and Turkey coast visit.
When I used to do Greek island hopping with my friends, I used first to travel from Athens to Santorini and then from their return to Athens via Ios (Ios Map), Mykonos, Paros. Each island having unique beauty and unique entertainment.