It's common practice to browse Internet in search of the most interesting attraction before going on vacation. Perhaps, you have already read a few articles about Milan, and think there aren't many exciting things to see and do except for shopping and visiting Duomo or La Scala. Indeed, Duomo di Milano is really impressive and majestic and it should be written down in your must-see list. And what if you want something more extraordinary? Discover  here 5 things usual tourists have never heard about!
San Bernardino alle Ossa
Throughout the world there are several scary buildings decorated with or almost completely made of human bones. These bones form eerily symmetrical patterns and may frighten or even shock especially impressionable people. Without exaggeration, the chief architect of such places is the death itself.
You can see churches decorated with human bones in Austria, Portugal, Peru, Poland, France, Serbia, Czech Republic and also in Italy. One of such kind of buildings is located in Milan.
San Bernardino alle Ossa is a church located on Piazza Santo Stefano not far from the city center. It is primary known for its ossuary with the walls covered with human bones and skulls. Almost all bones belong to either local prisoners or to the ministers of San Bernardino.
It should be mentioned that in Italy, there is another similar church Santa Maria della Concezione dei Cappuccini. It's located in Rome, and is best known for its creepy decorations (garlands, ornaments, chandeliers) made of the bones of about 4,000 monks.
Leonardo's Horse
History of Leonardo's Horse started in 1492, when Ludovico Sforza the Duke of Milan asked Da Vinci to make the largest horse statue in the world. Leonardo liked this ambitious idea and eagerly got down to business. He was going to build a really huge bronze statue with the height of 7 meters. It was a real challenge for those times, even for great Leonardo.
In order to embody the idea into reality, Leonardo invented an innovate mold-making technique and a more powerful oven able to heat huge amount of bronze. In 1493, he represented a full size clay model of the statue. Everything was prepared for bronzing, but unfortunately it required too many bronze, more than 80 tons. Since Sforza couldn't provide Leonardo with enough bronze, the statue has never been finished.
So, what statue is standing in front of San Siro Hippodrome in Milan? The point is that in 1977, an American billionaire and a retired pilot, Charles Dent, decided to finish Leonardo's project. The construction of the horse statue took almost 22 years and about 2 million dollars. As Leonardo, Charles didn't see the result of his work and died 5 years before the project was finished. The statue of Leonardo's Horse located in Milan has a height of 7.3 meters.
Bull mosaic in Galleria Vittorio Emanuele
It seems every self-respecting city should has its own unique and strange tradition, the whole sense of which consists in touching or rubbing some parts of the statues for certain number of times. Tourists like to do such kind of stuff hoping these manipulations will bring them good luck or wealth or who knows what.
Milan isn't an exception, but in case of this wonderful city, you should go to Galleria Vittorio Emanuele and find the mosaic of bull located right in the center of the shopping complex. Your next step is to put your right heel right on the bull's balls and turn yourself three times. Actually, you won't find bull's genitals, only a hole instead of it. The explanation is simple. Too many tourists use the power of Milan's bull every day, and this poor mosaic requires restoration very often.
What does spinning on bull's genitals bring to the tourists? Nobody knows for sure. Some people believe it brings luck, other think it helps in finding true love or fulfill wishes or will be a guarantee that you'll come back.
Cimitero Monumentale
Monumental Cemetery in Milan isn't just a graveyard and an open-air museum. In fact, more than 150 years of its excising have turned the cemetery into the whole city with its own history and unique architecture. As in every city, here you'll find wide central alleys, luxury districts with more affluent residents, modest street of usual people and even non-Catholic and Jewish areas.
Many famous composers, musicians, poets, writers, artists have found their last resting place here. Among them are great Giuseppe Verdi, musician Vladimir Horowitz, Kapellmeister Arturo Toscanini, artist and designer Bruno Munari. The cemetery has peaceful, calm and sad atmosphere.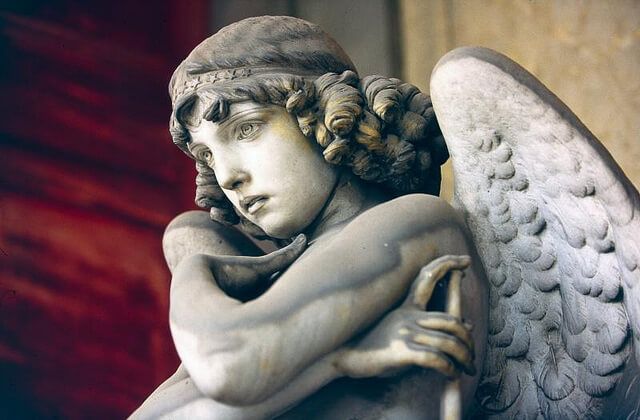 It's strange to say that the Cemetery is beautiful, but indeed it is. Here are many gorgeous sculptures and tombstones that could take a prominent place in any art museum in the world. Sculptures of the Cemetery are made in different artistic styles and will surprise you with their variety. Here you'll meet Egyptian pyramids, Greek temples, statues of various saints and angels.
ATMosfera
ATMosfera is a unique restaurant in the center of Milan. It's made from the old tram, and completely reconstructs external and internal appearance of Milan tram of 60s. Everything here starting from the smallest details of the interior and ending with the selection of dishes are designed to restore the atmosphere of Milan of mid-20th century.
The ATMosfera offers a two-hour trip through the center of Milan. It consists of two cars and can fit up to 48 guests. Since the restaurant is very popular and it's and seats are limited, it's recommended to reserve a table in advance.