Connected with romance, beauty and something infinitely valuable, the blue coloured eyes have a very special significance, predominantly in many societies. And add on the fair complexion to pretty glittering blue eyes, bingo; be the most beautiful person in your circle whether it is a myth or tested and proven fact is still not known, but this thing is for sure.
Eye shadow for blue eyes is something that one must take care of while getting dolled up for a party. The first thing you need to remind yourself is that you are already attractive, thanks to your eyes. Therefore, going over the board may not look you extremely gorgeous. The idea here is to dash the entire make-up with a touch of unfussy approach.
Trying one of the two things- either the glittery sparkles to give that shimmer to your blue eyes, or eye shadow makeup with bang-on contrasting colours is what exactly you need to enhance your romantically pretty blue eyes. If you have this special colour, the first thing you need to do while picking up your make-up kit is forget the blue eye shadow. Or, if you really want to use it, make sure that you team it up with contrasting blue shades with a tinge of black or bronze.
Going that extra mile while experimenting with blue eyes eye shadow
Eye is the first thing that attracts most human beings. Few people are blessed with distinct eye colour which makes them stand out. There are different eye shadow colours for blue eyes. Eye shadow make up can make eyes look really beautiful.
Almond Shape: Use colour eye shadow on the top lid, as this will help open up the eye for blue eye shadow looks.
Deep Set Eyes: Apply a highlighting arch close to the lash line and use a warm colour under the brow bone to create a multi-dimensional look.
Close Set Eyes: Graduate your colour from light to deep, going from inside to outside. This is going to give the illusion that the eyes are further apart.
Wide Set Eyes: They are also as perfect like almond shapes. One can use any colour especially deeper colour in the inside corner. It makes nose look angular and interesting.
Hooded Eyes: A hooded eye is where you can barely see the lid. With this shape, start by applying your warmer, contouring colour on the base of your brow bone and blend it up to the eyebrow. Then take your lightest colour right up underneath the brow, to create a shape. Lastly, apply that same light colour, starting on your lid, and sweeping vertically.
Prominent Eyes: With a prominent eye-shape, sometimes known as bulging eyes, it's best to stick to nudes and neutrals. Skip eyeliner and opt for false lashes if using bright colours.
Picking up that right shade for extra oomph!
Eyes are natural embellishments of a woman and making it more startling with eye makeup can mesmerize the world. Eyes have different shades with different appealing power.
Eye shadow for blue eyes is the perfect eye makeup to enthral the world. You doll up your eyes with different festooning items like eye liner, mascara, eye shadow and so on. But do you know you can have perfect eye makeup which can complement your eye colour? Here we list down different eye shadow colours for blue eyes to look more stunning.
Smokey Eye Shadows:
For an erotic eye makeup, girls with blue eyes should go for some dark smudged eye shadows which are sexy enough to make you stand out of the crowd.
Try deep blue eye shadow slightly which will match your attractive blue lenses. You should also try grey shadow and can put on your brow bone to give an enhanced look of your eyes. Grey complements blue and will give your irresistible look. Try white eye shadow too for sizzling Smokey look.
Metallic Eye Shadows:
To have a contrasting look with your deep blue eyes, go for sparkling metallic shades. Try metallic copper and you can use it fully on the eye lid or you can have light shade of it. In same way you can also try metallic gold and bronze, it will widen up your eyes and give glittering effect. Go for white sparkle shade to highlight the deepness in your blue eyes.
Lusty Eye Shadows:
If you want to enhance the breath taking temptation of your blue eyes, try some lusty and sexy shades. Go for taupe shade for lusty and erotic look with thick strokes of eye liner. You should also try charcoal shade for smart and sexy appearance and spread it to the crease line too. Try turquoise and teal shade too to allure the crowd around you.
Doing it the Glittery Way
It is immensely important to put eye make-up according to your eye color. Apart from eyeliner and mascara, eye shadow is the main thing which enhances your eyes. You should apply eye shadows according to the occasion. For instance, if you are going for Saturday night clubbing put glittery eye shadow.
There are many eye shadows for blue eyes. You can apply contemporary glitters such as: Peach, sea-green, purple and pink. All these colors work to make your blue eyes look ravishing throughout.
How to apply eye shadow
Here are some basic steps that will help you while applying eye shadow:
Step 1: Choose the perfect colour for eye shadow and brushes.
There are numerous of eye shadows preset in makeup box. It is essential to sort them and take out that eye shadow which you wish to apply. Also you need a flat brush or soft brush, sort that too.
Step 2: Applying eye shadow
It is important to select the accurate brush for an eye shadow. Eye shadow can go complete wrong if applied with wrong brush.
Apply pigment on your eyelid. Make a solid line of eye shadow.
Don't move your hand back and forth. One should apply eye shadow with patience. Make brush move in the same direction.
Here are some points that you should keep in mind before applying eye makeup.
Always remember to do your face make up before doing eye make-up.
Always apply mascara after applying eye shadow.
Never apply eye shadows harshly. This might lead to uneven texture of eye shadow. Try to be soft with brushes and apply eye shadow smoothly.
Some Brilliant Eye Shadows for Blue Eyes
#1.  Light Smoky Baby Blue Eyes

Touch up with shimmer at the base and apply eyeliner on the upper lid. Apply silver shade on upper whole and a copper shade at sides to give it a smoky look.
#2.  Golden Gunmetal Eye Shadow for Blue Eyes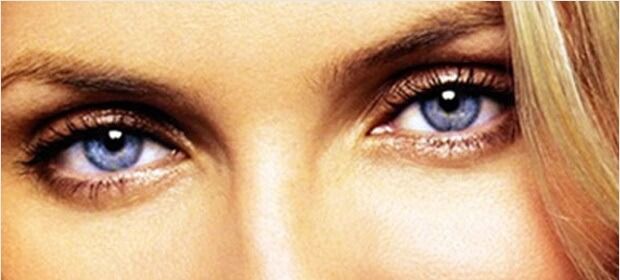 Apply gold shimmer shade on whole of upper eyelid. Give a slight touch to lower eyelid with the golden color too. Touch up with black mascara and give it a gold party look.
#3.  Summer Sky Eye Shadow for Blue Eyes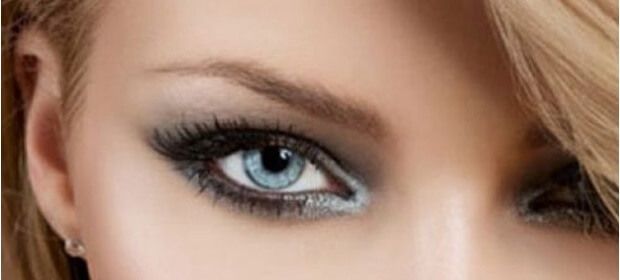 This tip goes with all the blues and specially if you have pale or sky blue shade in the eyes. Apply the basic shimmer and then sky blue glimmer liner on both upper and lower eye lid and touch up with mascara.
#4.  Cornflower Contrast Eye Shadow for Blue Eyes
The cornflower blue eye is apt for putting a contrast or mix match. The light and medium inside can be beautified using the darker blue eye shadow over the upper and lower eyelid and a touch of mascara.
#5.  Extended Eye Liner Touch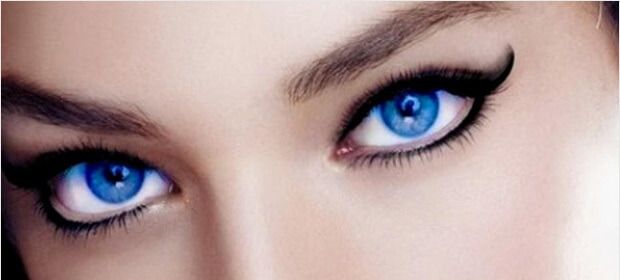 Simply black eyeliner extended from each side proves to be a classy apart of eye shadow makeup for blue eyes. Give it a final touch up with mascara.
#6.  Blue bronze Eye Shadow for Blue Eyes
Best eye shadow for blue eyes is to complement them with the bronze. The darker blues can be most beautifully glorified using darker bronze eye shade which makes the blue iris look more glamorous.
#7.  Silver Eye Shadow for Blue Eyes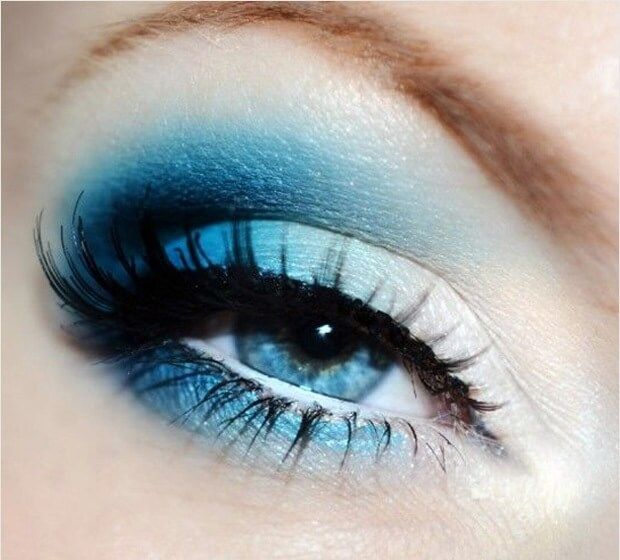 If you have a electric blue eye colour then the silver – blue is apt for you. This consists of the base of silver. Apply electric blue eye shadow over the edges and extend it a bit. This is surely gives an energetic eye view.
#8.  Metallic Magic Eye Shadow for Blue Eyes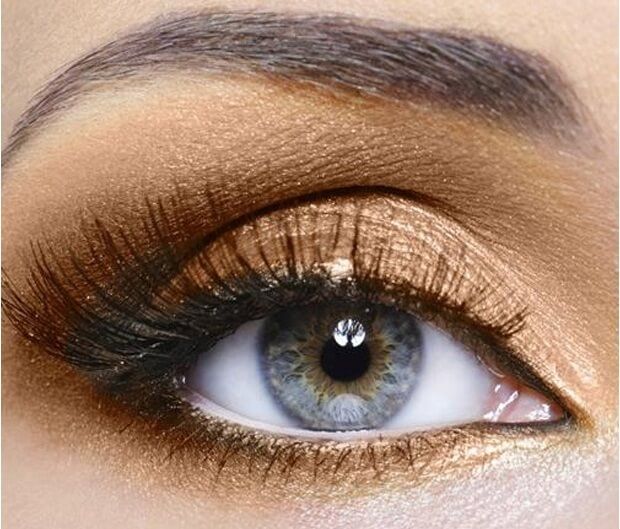 Try out the metallic brown or you may apply a blend of orange and brown to mesmerize people with your blue eyes.
#9.  Blue purple combo Eye Shadow for Blue Eyes
Give your blue eyes an intense look with purple. Brush up the base with turquoise and apply extended purple shade over the upper eyelid and touch up a bit on lower eyelid too. You may use the eyelid extensions or just simple black mascara for final touch up.