Originating in 17th century France, gallery walls have had a long history of adorning our walls with artwork we love to admire. Commonly called 'salon walls', the first exhibition featured works from graduates of the Académie Royale de Peinture et de Sculpture in Paris, and because space was limited, the modern gallery wall we all know so well was born!
Now a popular way to bring both style and personality to any room, creating one is simple. So, gather your favourite collection of artworks, prints and photographs and follow these 5 steps to hanging a gallery wall in your home…
1. Pick out the right space
If you think you need to live in a huge home with lots of wall space to create a gallery wall you would be mistaken. In fact, gallery walls are perfect for small spaces as they provide a strong sense of design, without taking up any floor space!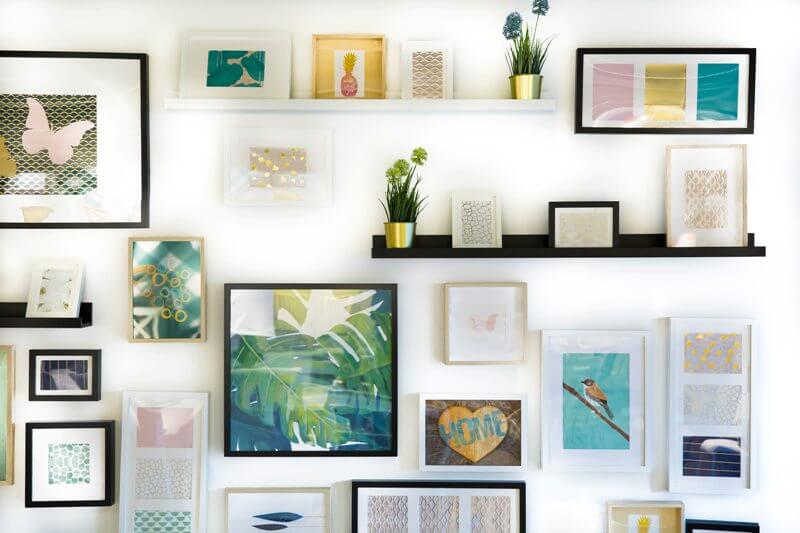 However, when it comes to the big question of 'where?', there aren't too many limitations. You can hand gallery walls pretty much anywhere and that's the beauty of them! Want to fill up wall space around your windows? Go for it. Have a big empty wall behind your sofa? Fill it with artwork! The tiny patch of wall between your door frames looking bare? Fill it from floor to ceiling! It's all personal preference! That's the great thing about gallery walls, they can be any size you like making them so versatile for any home.
As long as your wall is straight, relatively plain in terms of pattern and ready to decorate, you're good to go with wherever you please!
2. Find your style
Now comes the fun part. Finding your style and it starts with asking yourself these questions:
What brings you joy?
What colour scheme do you love?
Are there any places you love to visit?
How is your home currently decorated?
Answering these 4 questions will really help you figure out what you like. This will give you the perfect starting point for finding pieces that you want to display on your wall.
Interior designer Jana Bek says, "A captivating gallery wall should look and feel collected. The ensemble should be an interesting mix of genres and techniques – for instance, figures, landscapes, abstracts in the form of drawings, photography and painting. Practice patience and take joy in acquiring your finds." Take your time in finding pieces you love and that work well together. Make sure the colours are cohesive, and mix and match styles for an eclectic feel.
3. Frame it
The brilliance of a gallery wall is that nothing is the same. From artwork to frames, everything about it should be unique. That's what makes them so interesting to look at!
When it comes to framing, using a variety of styles, materials and colours is key. The point here is to emphasize each piece individually, by choosing the frame according to the art it is accompanying. It might be tempting to choose frames that go with the furniture in your room, which should be kept in mind, but it's not the overriding factor here. Instead, take each piece and pick a frame that compliments it. For example, a modern graphic poster wouldn't suit an ornate golden frame. Instead, opt for something simpler and sleeker. If you want to display an antique painting however, something grander could work well. It's all about enhancing the artwork you have.
Alternatively, some pieces don't have to be framed at all! An aluminium wall print would be a great choice if you want to mix up your artwork and the way it is displayed on your wall.
4. Map it out
Now it's time to decide on your layout. There are so many ways in which you can display your gallery wall. From sleek and symmetrical to mixing and matching, how you hang your pieces can really change the look and feel of a room,
A great way to decide on your layout is by using the floor. Make sure to measure the wall space you plan to decorate and then map this out on your floor with masking tape. Gather all your pieces, lay them out in front of you and move them around to figure out what works best for you! This is a foolproof way of planning your gallery wall which will no doubt reduce the risk of making mistakes later (trust us).
Melissa Baran from Style Me Pretty Living says "the best way to check how your composition works, without immediately attacking your wall with a hammer is to trace and cut each frame to size. I have used carton boxes but you can also use colourful paper. Then, hang the cut pieces on the wall using washi tape and see if you like the final result."
5. Time to hang
Hanging your gallery wall is the final, and probably most daunting step. Making a mistake and drilling a hole in the wrong place is at the forefront of many of our minds, and believe us when we say it's a common feeling!
However, fear not, because it doesn't have to be a difficult task! Follow these steps:
1. Take a pencil and mark on your wall where you want to hang each piece. (Make sure to check the wall fastenings on each as this may differ from frame to frame).
2. Choose how you will hang them. If you live in rented accommodation, command strips are great for a hole-free and easy hanging solution. These are also great for DIY novices. If you're more comfortable with a drill however, screws are great for a more permanent installation choice.
3. When you come to hanging, a spirit level will be your best friend! Trust us when we say a wonky picture isn't going to look aesthetically pleasing, so make sure everything is straight.
Creating your perfect gallery wall is a labour of love. Play around with colours, patterns and styles. Go hunting for those statement pieces, and most importantly create a gallery that's unique and personal to you!