Sling bags is that they blend well with women look, whatever that may be – a skirt, jeans, a tunic or ethnic wear, it never sticks out like a sore thumb. Hence, we think they are a 'must have' item in every girl's wardrobe.
They are the modified version of a messenger bag. The speciality of these Sling bags is that they are made of either natural or synthetic fibre and slung over one shoulder, either worn to the side or across the chest.
Here 18 Sling Bags to Sling on Some Attitude for the Women Look!
Simple yet trendy, this brass colour sling bag goes very well on jeans as well as skirts and dresses for casual days out. The buckle in the centre gives the bag a rustic yet chic look.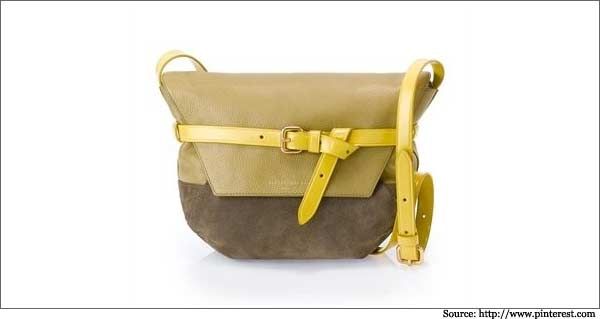 This extremely classy yellow strapped Marc Jacobs sling bag makes a style statement of its own. This classy Sling bags goes perfectly with summery dresses, flowing skirts as well as denims. Make sure when you use this Sling bag on skirts or flowing dresses. You team it up with nice pair of wedges to get the perfectly girly look.
This lime shaded Sling bag with patches of brown and turquoise is a good idea to wear with a solid colour dress, skirt or even with a pair of denim jeans. This sling bag can be used for informal meetings out soar that brunch with your girlfriends. Either one of the shades of the bag on your outfit or a completely contrasting colour will do wonders to your whole look.
Also Read: Sexiest Shoes Around For Women to Wear
Cute, delicate and pretty can be used to describe this easy sling bag pattern. While this Sling bag can go well with jeans. It looks best with skirts and dresses. As it will give you that peaches and cream feminine look, apt for young girls and college-goers.
Wild, bohemian and unconventional. This fringe style sling bag is for those who want to try something different or experimental with their style. This sling bag is perfectly suite for skirts and dresses both. Short as well as flowing ones wear with stilettos for informal get together, parties etc.
Simple yet elegant. This brown colour leather texture sling bag with an adjustable strap is a good option to pair with jeans as well as skirts. Since the Sling bag is make out of leather. It can be wear at casual as well as semi formal events and occasions.
This rectangular envelope black and brown sling bag is a safe bet to wear on denims for informal or casual parties or just to step out to go shopping.. Pair this with flats, chappals or sandals to get the perfect look!
Chic and girly, this triangular sling bag is sure to make heads turn and people sit up and take note of you! Pair it with a feminine flowing dress and kitten heels and you are ready to take on the world!
This tan colour sling bag is a perfect accessory to wear on jeans as well as shorts and a trendy tank top. Boots with small heels will complete your look. This bag is perfect while travelling and on casual dates.
This Turquoise colour small sling bag can go very well with contrast colour dresses and skirts. Since it is extremely feminine and stylish due to its compact shape. Peep toe heels or tiny kittens will add grace to the whole outfit for casual parties or informal get together.
Black is always stylish, classy and creates a fashion statement on its own. Wear this black colour sling bag with contrast colour t-shirts or shirts and jeans or formal trousers along with a belt and you are ready to go!
Casual and chic, this tan colour leather sling bag is best pair with a contrast colour top and denim jacket with trousers. Complete the look with a pair of stylish wedges or even flats.
This black colour sling bag comes with both long as well as a short strap. While the long strap can be use as a sling bag on denims. The short strap can be use for semi formal or even formal events on trousers as well as skirts and dresses.
Black and white horizontal striped sling bag with a navy blue and yellow patch in front. And a chain handle is a perfect accessory on a summery afternoon on denims as well as flowing skirts. Team it up with a pair of classy yet chic wedges and you are good to go!
This off white colour sling bag in a boho crochet pattern is extremely feminine and elegant. This can go very well on dresses and skirts or even trousers. And it can be wear for both casual as well as semi formal and formal occasions.
Also Read: Why Fast Fashion Has No Place in Our Wardrobes
This shocking pink kitschy sling bag will go very well on ripped jeans and a backless top or a short summery skirt. Wear a plain white or any other solid-colour tank top and flat chappals or sandals to get that unconventional look!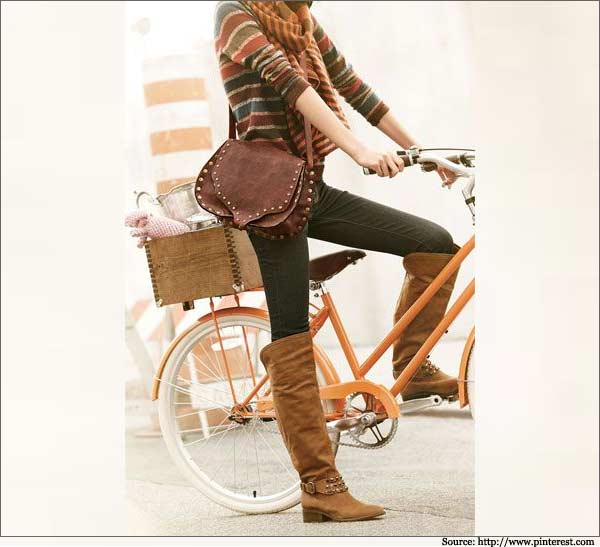 This dull brick colour sling bag can be a very good option during fall to wear on denims and boots a coffee date. A simple yet elegant scarf or stole will add to the beauty of this ensemble.
Multi colours faux sling bag is a hit among college girls. As it goes very well with Kurtis and jeans as well as skirts and dresses. It has great utility value as it is medium size and can therefore hold more things. Make sure that the rest of the outfit is not very colourful else it can be a fashion faux-pas!