Wedding is one of the auspicious occasion in once life as it is the once in a lifetime opportunity for every one of us. We all want to dress up well, keep ourselves toned up and want a lavish and luxurious wedding so that all eyes are set on us. You keep an eye on your gown, heels or ballerinas you want to choose, hair accessories and the hairstyle, make-up so as to give the best glow to our face as it should give a picture perfect look. For this many people hire the stylists and the professional wedding planners so that they can give their wedding day a glorious touch. So, here are some of the tips to look beautiful on your wedding.
Work on your tresses
The foremost thing which every bride likes to concentrate is her hairstyle because we all know it depicts our personality. Hairs are the crown of our head and if they will tie beautifully then all eyes will get stuck on you for much time and next time if anyone is going to proceed to their own wedding are surely going to hire your hairstylist. One should look after the hairs as they depict your style statement and can be done in a variety ways. You should take care of them in an amazing way as they should look glossy on the day of your wedding because dull hairs do not appeal to anyone. For that you can use hair treatments offered by the salons so that you can get yourself ready for this auspicious occasion in a most elegant way.
Also Read: Top Wedding Attire Trends To Dip Into
Treat your skin
Make sure that you are all ready for that picture perfect look with the flawless and smooth skin because a dry skin with dry lines, shown on the skin will definitely ruin your big day. So, for that you should intake plenty of water and the nutritious diet so that you can get the glow of your skin back. Even the visit to the salon can make it better because as the cold weather will ruin your make-up on a dry skin and the artist will find it difficult to apply it on your face. Tell them beforehand that you a naturally dry skin so that the professionals can offer varied solutions for the treatment of your skin.
Complete your hairs with the beautiful accessories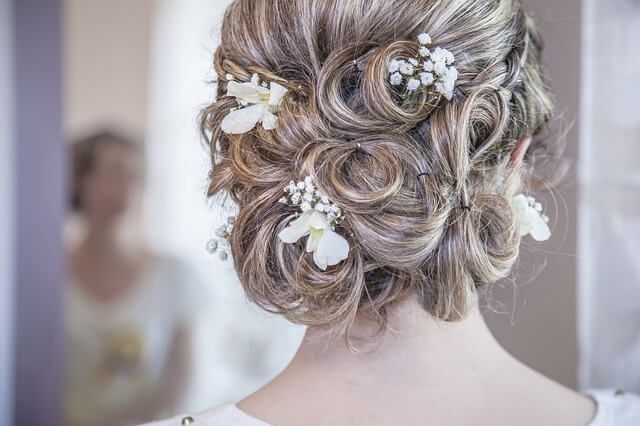 A wedding dress up is not complete with the stunning hair accessories which are available in the market or the floral accessories which the brides like to match up with their wedding gown. So, you can get the best of accessories online as you can choose from varied designs of headbands, floral bands, accessories for your bun and braids as they flaunt your style in the best way. You can go for highlights and low-lights and the latest Ombre shades for your hairs as they are a hit this wedding season because they look good on the straight and healthy hairs and you can even keep them open as it is as they will complement your face and gown too. Some girls like to match up their bridal clutch with their accessory colours too.
Eyes and lips speak a lot
Yes, we know that our eyes and lips do convey a lot when we are ready to walk the red carpet as the beautiful broad eyes with a good touch up will attract everyone and the smile on your glossy lips is going to mesmerise the environment as your groom is going to fall in love with it over and over again. So, be very particular about your eyes and lip make-up because if your eyes are having dark circles or look a little puffy, then you can go with the eye-highlighter under your eyes to hide those circles which will give a bad effect to your likes. You can use shimmer in your makeup too, and if you are going with your lips then be particular to give it a glossy tint matching up with your lipstick to give your lips a vibrant shade.
Dress yourself in an elegant way
The most important thing is to slip into the best attire you have chosen for the special occasion as it will give you an angelic look. But as you are heading for winter wedding, then make sure that you keep yourself warm too by wearing a stylish coat over your gown and it can be taken in evening party too with a matching stole which will help you falling prey to this chilling weather. You will look graceful as you walk down on your wedding day because all eyes will stick on you and yes, one can also choose from various designer evening clutches for brides which are available online from different brands. You can match it according to your wonderful dress or your stylish coat because choosing an ideal colour this season is in fashion.
Slip your feet into the gorgeous boots
The last but not the least thing is to take care of your feet because of extreme winter conditions and snow outside you will definitely not like to slip your feet into high heels or strappy sandals. So, ladies go and choose the gorgeous boots which matches up best with your gown so that you can walk freely and without any discomfort and have a happy feet.
So, here are some of the wedding beauty tips which help you to be at your best when you are heading for the white wedding.