It is said that a woman's best assets are her 'Eyes' because what her words can't tell the world, her eyes can express. So, if eyes can do the talking for us, girls don't you think that they also need that extra love and care. You hear Black eye makeup and you start thinking about Angelina Jolie's movie Maleficent in which her black eye makeup helped her do justice to the evil role in that movie but hello! Just wait. *Period* to your thoughts. People have various myths regarding black eye makeup like it is meant for dark characters, and blah blah blah! If you are among them, then the following article is just meant for you.
Black eye make up for women who wants to look awesome with an essence of gothic theme based party and if given a little more detailing can do wonders on traditional attires as well.
How to do Black Eye Makeup
Make-up essentials that will required for the black eye-makeup:
Concealer (Foundation based concealer is the best option)
Primer of a good quality
Contour Kit (Must have Black or grey eye shadow shade with a basic shades as well)
Sparkle (You can choose golden sparkle eye shadow or a silver one according to your need)
Eyelash-curler
Mascara
Eyebrow-Pencil
Kohl
Hair-Dryer (To heat the Eyelash -curler)
Basic Brush-kit
Step by step guide:
1. Concealer
Always use a foundation based eye-concealer instead of using foundation and eye concealer separately. Give light strokes in circular motion with your finger-tips. While applying foundation never use it on the eye, leave it to be done separately. Before applying a concealer, you can take two cotton balls, dip it in cold rose water and keep it on eyes for 5-10 minutes and lie down. It will help concealer do its work more efficiently. Take the foundation based concealer and the best way to apply concealer is the 8 dot method. Apply four dots on each portion (upper and below) of eyes and rub gently on the eye skin to blend it completely. Let it settle down and absorb nicely into the skin.
2. Eyeliner
Before going ahead with the black eye-makeup, you can you a primer of good quality if you tend to have greasy eyelids.
Take solid-base eyeliner and apply on the upper and below edges of eyes.
Now cover the rest part of the eyes with the same liner in a half-dome pattern.
With a help of a round turnable short-hair brush blend it gently on the skin to give it a smokey look.
For a better finesse, use the tips of the fingers to finish the blending part.
3. Contour Kit
Take an Eye-shadow kit which has the basic colour especially the one which goes well with your skin tone. It should also have a grey and black eye-shadow shade which you can rarely find in a basic contour – kit.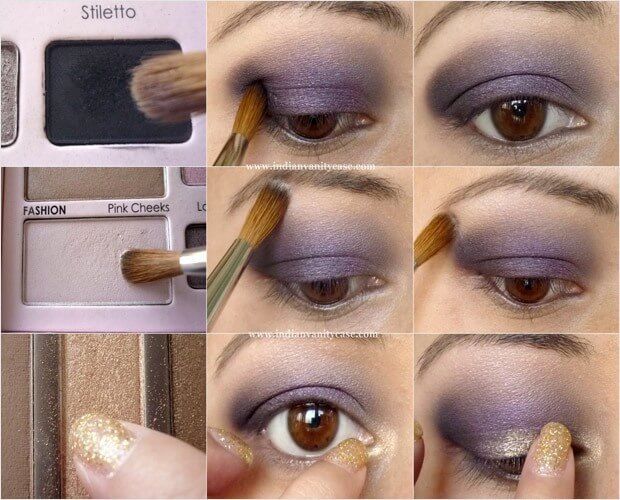 Now take the eye-shadow shade that matches the colour-tone of your eyes.
Blend the edges of the black shade you have earlier used, slowly with this eye-shadow shade (the basic color) till the inner -corner of your eyes.
Take a high-pitched black color and apply it on the black eyeliner shade we have earlier used to give it a pro look.
Take a puff-brush and smooth the edges of this black overall-shade.
Now outline the under -eye portion of the eyes with a black eyeliner.
Use the same black eye-shadow shade and blend it with a dash of smugness.
4. Sparkle Dab
Be very careful while choosing a sparkling eye-shadow shade as excess of it can actually ruin your efforts till now. Use a golden or silver one according to your needs. Don't over play with this part.
Outline the inner corners of your eyes with a suitable sparkle eye shadow shade.
Don't over lengthen this outline. Make it a bit thicker if you desire.
5. Kohl
Always keep kohl for the last, so that you don't end smudging it up at the end of your overall eye-makeup. Apply from the inner corner to the outer-corners and avoid extending outside the inside of your eyelids. V shape at the eye corners looks hot. Keep it a little edge by lining a small portion at the V-junction of your eyes.
There are people who are allergic to the cosmetic kohl available in the markets. So here is a tutorial of how to make homemade kohl at your home on a healthier note:
Take a diya or a lamp. Pour some pour ghee.
Put a cotton wick on it.
Dab the wick with the ghee and lit it up.
Place two blocks on each side of the lamp or diya at a height equal to the height of the flame. It will also prevent the set-up from the breeze.
Place a metal plate over the blocks.
Let it burn over night.
Collect the soot accumulated on the inside of the metal plate.
Now, add ghee in drop into the soot to have a smooth paste.
Keep it in a refrigerator for storage.
You can also use fragrance oils in the paste to have an aromatic experience for your most delicate eyes!!!
6. Eyelash Curler:
Make sure your mascara has dried up before you use eyelash curler on your pretty lashes. For better effect, before curling you can warm your curler with a blow-dryer for 10 seconds. Do check the curler after heating it up, so that you don't end up burning yourself upon curling your delicate lashes. Also, Don't get your skin in the eyelash curler while holding the lashes at the root. So you need to be a little careful in this step!!!
7. Mascara
As said before use a dual hair-brush based mascara. Start from the upper lid and make sure to scrap off the extra mascara liquid from the brush while removing it out of the bottle for applying. Now, wiggle the brush back and forth on the lashes. After this, use the short hair brush for applying the mascara to the bottom eyelashes. Repeat the steps once or twice only. For perfection, take the brush without mascara liquid and wiggle it on both the sides of eyelashes to remove unnecessary mascara and to avoid sticking together to the lashes.
8. Eyebrows
Eyebrows are the most beautiful and essential part in your eye-makeup. So, never leave them especially while doing the black eye-makeup.
First of all comb the eyebrows well using eyebrow comb which usually comes along the makeup brush pack. Now to give them a neater and darker look, with one hand use eyebrow -pencil and again comb them immediately to remove any extra colour from eyebrow pencil.
Avoid using eyebrow-pencil at the foremost corners of the eyebrows to give it a neutral look.
Some of the very useful and easy at home eye makeup tips of how to care for your eyes for your all special events.
Massage with almond oil in the night and leave it overnight to remove dark circles.
Put slices of cucumber, raw potatoes once a day or cooling effect.
Dab two cotton balls in cooled rose-water on eyes for 5-10 minutes. Try doing it thrice a week.
Take out juice of mint leaves and apply on the dark circles. Wash it after it dries.
So, that was all for now. Hope you had the best time reading this tutorial.