We'll take a look at techniques for applying lip liner, the different types of lip liner that are available, as well as common lip liner errors and the trendy look of ombre lips in this article. First, we will take a look at how to apply lip liner for a normal, everyday look.
Best Lip Liner Application
Following the pictures above from the top left photo across the top and then down the rows under that is the step by step procedure for how to apply lip liner. For this tutorial all you need is a lip liner and similar colour lip gloss.
How to Apply Lip Liner in 9 simple steps
Start with either nothing on your lips or if you want your lip liner colour to not be changed by your natural lip colour underneath, you may wish to apply a concealer first.
Apply the lip liner to the cupid's bow of your lips on the natural outer edge of your upper lip.
Draw the lip liner down from the bow to the corner of your mouth. You may use small strokes if that is more comfortable. You do not have to draw this using only one stroke.
Repeat step 3 on the other side of your upper lip to completely line the edge of your lip.
Begin to line the bottom of your lip. Here she has started in the middle.
Again, draw the line to both corners of your mouth. Using smaller strokes gives you more control.
Fill in the entire lip using the exact same lip liner colour.
Your lips should now be completely filled with your lip liner colour. This will give a matte look to your lips. You can finish at this point, if you are happy with this look.
Carefully apply a layer of lip gloss to your bottom lip only if you wish to add some shine.
How to Use Lip Liner
The best lip liner look is when it is applied to your natural lip in a colour that suits you. Keep practising with your lip liner until you find it easy to do. Use smaller strokes to outline your lips. You do not have to draw this perfectly using only one stroke all the way around your mouth. Mistakes can easily be corrected and filled in as you go. Simply remove any lip liner that goes over your lip onto your skin. There are tricks that can be used to increase the size of your lips using lip liner or to even make your mouth appear smaller, but you must be very careful when doing either of these as you run the risk of your makeup looking bad.
Fuller Looking Lips
If your mouth is on the petite side and you wish to make your lips look fuller the trick is to apply your lip liner just outside of your natural lip line. How to apply lip liner to increase the size of your lips is to study your mouth and you will notice that there is an edge around your lips that is part of your mouth area. Do not apply your lip liner any farther away from your lips than this to try to keep your lips looking as natural as possible. The photo above shows the points around the lips that can be used to create larger, fuller lips. This is still part of the natural mouth and is just a small line right next to your lips. You simply connect the dots with your lip liner to create a lavish look.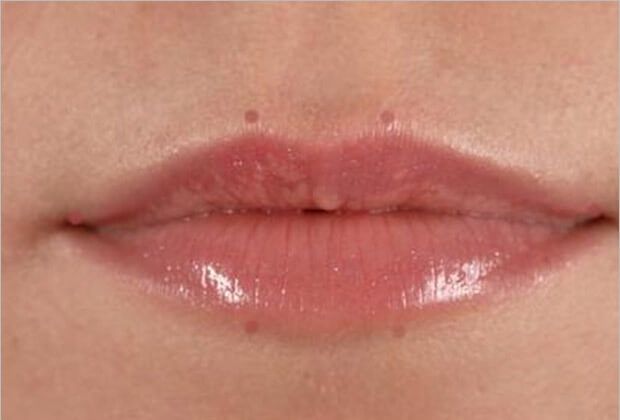 This picture demonstrates the lip liner tips on how to make your lips larger and fuller when you use this method. Try this experiment at home to see the difference you can make to the size of your lips. Remember not to get carried away, and keep the extension as natural and as close to your real lips as possible. By using this technique you can see just how much larger the lips look from her ordinary mouth in the photograph. It is a good idea to first apply concealer to your lips to blend the colour closer to your skin colour. This helps to hide your natural lip colour underneath and prevents the colour difference from revealing your extended lip line. If you try this method without first hiding your natural lip colour with concealer, there will be a noticeable difference in the colour of your lip liner on your lips compared to the liner just outside of your lips, making it obvious that you have extended your lips. Try your best to avoid this error.
Smaller Looking Lips
If you feel your lips are too large and would like to reduce their impact, then there are a couple of tricks you can try. Using paler or neutral/nude colours of lip liner can help to diminish their appearance. The photograph above shows an example of what are called Baby Doll lips. Simply apply concealer or foundation to match your skin colour to your lips. Create smaller lips by drawing a new outline just inside your lip edge to shrink the size of them. Once you have created a look that you are happy with then fill in the lip area with the lip liner to finish it off. For Baby Doll Lips keep your lip liner near the middle of your mouth and keep the corners of your mouth covered with the concealer. When you have finished applying your lip colour, use translucent powder over the concealer on the corners and any edges you want to appear skin coloured to help keep the concealer from wearing out and revealing your natural lip colour underneath.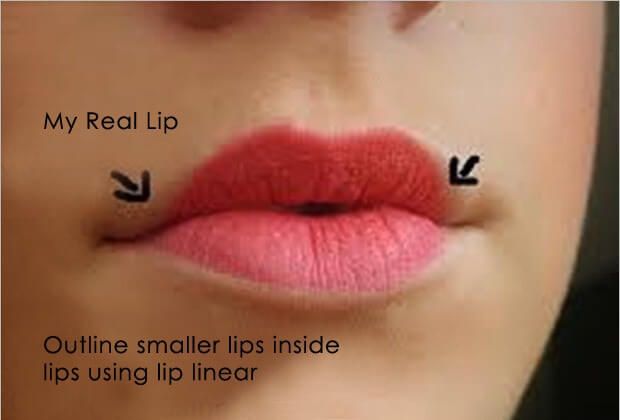 Another method of how to apply lip liner for making your mouth appear smaller is to apply a small amount of your lip liner to the inside of your lip only, avoiding the edges completely. After you have applied the lip liner, apply concealer to the edges of your lips. Carefully blend the concealer on your lips and mix it slightly with the edges of your lip liner to create an undefined lip edge. This will help to create the illusion that your lips are more petite than they really are.
Permanent Lip Liner
An alternative that some people are choosing is to have permanent lip liner tattooed onto their lips. This can be a good alternative for anyone who has problems with their lipstick and lip liners bleeding all the time. Bleeding lipstick refers to the trouble of the lipstick spreading over the lips and onto the surrounding skin with normal wear. This technique is also used by aging people who are losing the elasticity of their lips or their lips are paling in colour and they are losing definition. You can choose to have your lips done in any colour you like. You can have them done as close to your natural colour as you like or perhaps in a shade that resembles the lipstick colours you tend to wear.
These pictures show the process of having permanent lip liner applied. If you choose to try this keep in mind how your mouth will look right after having this procedure, and give yourself enough time to heal properly. It can take a couple of days for some people heal fully, so follow the advice you are given about caring for your lips before and after having this tattooing done.
Types of Lip Liner
The most common type of lip liner is the pencil. These come in a variety of colours, so you have a lot of selections to choose from. Try an assortment of shades to find the ones that look best on you. Keep in mind that people are either a cool or warm colour key, so look for colours that will complement your key. Most people that are of a cool key prefer silver colored jewelry, while people from the warm key choose gold colour jewelry, although this is not the case for everyone and is just a general finding. If you try a colour that just doesn't look right on you, it is probably in the wrong colour key for you. Cool key colours tend to have a blue base, while warm key colours are yellow based. The vampy, dark, deep red of the nightmoth lip liner is only one shade of a vast number of colours you may wish to try. You can find a lip liner in just about any colour you can imagine. There are different qualities of liner available so shop around until you find your favorite brands and colours.
If you own pencil lip liners or plan to own some, be sure to buy a pencil sharpener for them. Do not use any pencil sharpener that you also use for your pencils and pencil crayons. Keep that sharpener separate and invest in a makeup pencil only sharpener. You do not want to mix your makeup pencils with writing pencils in your sharpener. Bits from your writing pencils could become lodged in your makeup pencils creating many problems for you.
There are also always sharp lip liners available that come in a twist up pencil applicator. These do not need to be sharpened as they have thin lip liner tips and are a thin tube of lip liner that can be wound up as needed. These liners tend to have a less dry formula than the pencil style of lip liners. However, the pencils will last longer, as there is far less product in the always sharp applicators. Try both types of lip liner to find the best lip liner for you.
Mistakes to Avoid
One mistake that happens with lip liner is choosing the completely wrong colour. Avoid lining your lips with a much darker or lighter shade than that of your lipstick. This is not the same look as the ombre lips because these colours are not blended to provide a shading effect. This is a crisp outline of your lips in the wrong colour and looks terrible. To make sure this doesn't happen to you, after you have outlined your lips with the liner be sure to fill in the entire lip with the lip liner. Then apply your layer of lipstick overtop. Using the lip liner as a base this way stops this mistake from happening and provides a longer lasting lip colour.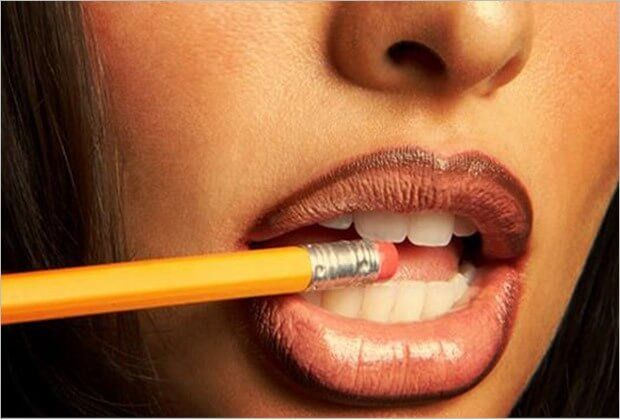 Unfortunately, Pamela Anderson not only makes the previous error of using a completely different colour for her lip liner which looks bad, but she has drawn that line way beyond her natural lip edge. This is not how to use lip liner properly. In fact, her natural lip edge is emphasized in between her lips and lip liner and is much lighter in colour than her lips and the lip liner. This just looks ridiculous and resembles a mustache more than larger, fuller lips. It almost looks like she ate some chocolate and got it all over her face around her mouth and didn't clean it off. Be careful when you want to make your lips look larger that you do not go beyond your natural mouth area to avoid looking like this. The lightest area of her lip line in this photograph is the furthest the lip liner should ever be drawn to try to keep it looking natural and yet provide a fuller lip look. It would help if she used a matching lip liner to her lipstick colour, too because it would create the illusion of naturally large lips.
Ombre Lips
A fashionable way how to use lip liner is to create ombre lips. This can be achieved using lighter to darker lip liners in the same shade or using different colours altogether. You can create this effect vertically or horizontally and even just randomly placing the colours. This look works best with lip liners which are drier and longer lasting than lipstick. Start this effect by using concealer on your lips so the truer colours of your lip liners show up better. Apply each colour separately, and carefully blend them at the edges where they meet to form the fading effect. The night moth lip liner shade would be a good colour to use for your darkest ombre colour. It is a deep, dark red shade that borders on black, a perfect vampy look.
How to Make Ombre Lips
This style of ombre is darker all around the edges and paler in the middle of the lips. This helps to create a pouty expression and makes your lips seem fuller. To copy the look of this tutorial you will need a concealer, a dark lip liner colour and a pale lip liner or lipstick and a clean lip brush or cotton bud. The step by step instructions will begin with the top left hand corner photo going across and then down the right hand side.
Step by Step Ombre Edge Lips:
Apply concealer over your lips to hide their natural colour.
Use the dark lip liner to create a line around the edge of your lips as you would normally. Add more of this dark colour lip liner to the corner of your lips bringing this dark colour in towards the middle, but do not colour all of your lips with this shade. You can also extend this line and thicken it at the top and bottom of your lip if you wish.
Apply your pale colour to the middle of your lips that do not have the darker lip liner on them.
Press your lips together once or twice but do not smear the colours together by rubbing your lips side to side or back and forth. Simply press your lips together and pull apart again in one smooth motion.
At this stage you can use your lip brush or cotton bud to blend the edges of your colours together to create a fading effect.