When you are putting together a great look for that big party or outing, a belt might not be on top of your accessory priority — unless your choice of outfit absolutely demands one. Belts are, however, one of the most effectively stylish and at the same time functional accessories that you must invest in. A good leather belt can tell more about your style sense than that expensive out of place hair accessory.
Also Read: Keeping Your Style up to Date: What Are 5 of the Most Popular Necklace Designs?
Belts – The New Avatar
Nowadays, belts have moved away from their most popular leather avatar and explore more materials and embellishments. The width and shapes of belts have also undergone a transformation over the years to give us a wide variety of fashion belts to choose from. Rams and red carpets have also embraced them, as celebrity stylists make sure that belts find their way into the stars wardrobes. More recently, the obi belt, rope belts, braided belts, corset belts and more such refreshing styles have made it to our style files. Styling tips for different ways to knot a simple belt is also doing the rounds on popular blogs and social media platforms.
With this raging revolution in belt styling, why should you be left behind. Time to break the rules and rescue your belt from its pants and denims life. Bring them to the forefront and let them be your style statements.
Before you hit the shops looking for that perfect fashion belt to flaunt your figure in, take a close look at these much needed belt styling tips. Understand what looks good on you starting with the shape of your waist — defined, short, long torso, wide, etc? Then pick out a type of belt that makes the best of what you have.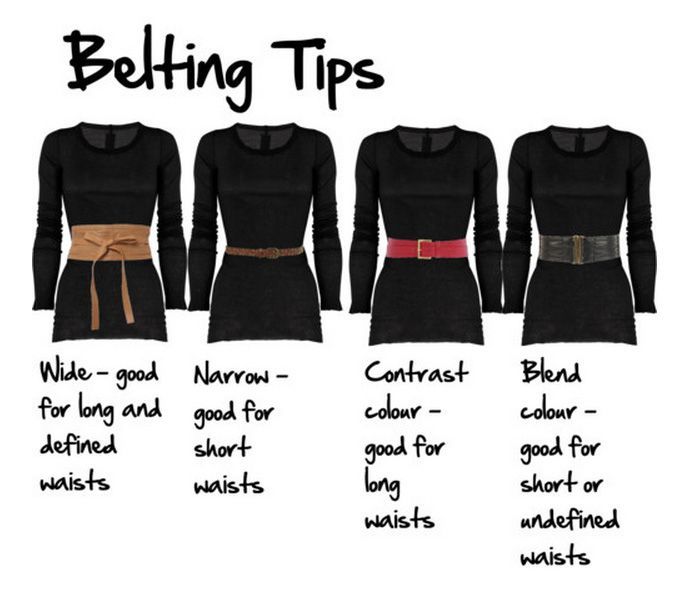 Those wide belts you often see on uber stylish ramp models are best if you own (or plan to work out) a long and defined waist. The wide belt would then hug your curves and accentuate them with ease. On the other hand, if you have a bloated belly, it is more likely to look like a shaper for your tummy than a stylish belt for dresses. However, rules are meant to be broken and broken well, with respect. Say for example, you are going in for a skirt and shirt look for that summer afternoon shopping spree. Belt the look with a moderately wide leather belt to add some instant glamour to your humble outfit.
Shiny Gold Belt
Colours are of course great to break the monotony. Like a shiny gold belt over black dress here:
Often underestimated, however, belts never fail to impress. The right belt can turn any lack lustre garment into a ramp ready look. This gold shaded metal belt for example, turns an otherwise plain simple little black dress into a glamorous look fit for any fashionista. Wouldn't you love to flaunt such sparkly belts for dresses on your night outs and dinner parties? Just be careful not to go overboard with the accessorizing when you use a striking fashion belt as this. Keep the rest of your look minimal, and possible coordinated, so that the statement belt stands out for admiration.
Also Read: 18 Trendy Sling Bags for Women
Black and gold is anyways one of the most sought after classic combo – then why not get it done with a sleek black dress and a glittering gold belt. Keep it simply plain or lavishly decorated – it's your choice. If your little black dress is as humble as the one seen here, any kind wouldn't hurt. But in case, your garment is heavily embellished, tone down the intricacy of your belt to keep the look balance. After all, you want to look like a trendsetter and not a trend-breaker.
Priyanka's Stylish Belt
Speaking of wide belts for dresses, check this out for some styling inspiration.
Priyanka's got it pretty perfect here. The wide black belt does great justice to her short and sexy dress. Yes, that black layer on her enviably tiny waist is a belt and that's the style that is in vogue right now. A favorite of the celebrities around the world, the wide belt is getting wider to cover almost the whole waist, giving toned bodies and curvy figure to die for! These waist belts for dresses and skirts are fiery new trend that everyone would like to try at least once. But beware, if you do not have a defined waist, it might not be worth it. After all, fashion shouldn't be a cause or your pain. Do not try to squeeze yourself into a style that does not suit you. And that's why we have searched out better options in fashion belts to woo you.
Waist Belts For Dresses & Skirts
Here, this stylish belt for dresses and skirts, for example.
Knotted Style Belt
Knotting your belt in a quirky fun way can take your style quotient up by several notches. Here, this blue gingham shirt dress in spiced up for summer with a white and gold rope belt done up in a pretty sailor's knot. If you have been trying to figure out how to wear tunics or long shirts with belts, here's your answer. Shirt dresses and tunics are a great buy for the summers – this easy breezy style would keep you looking fabulous under the scorching sun. However, without the right accessories, shirt dresses might just look drab.
A great pair of shoes and a sling bag might come to your mind immediately. But what's even more important is a stunning belt to cinch your waist and give some form to your overall silhouette. Cinching your waist would also give you those much needed contour that has the ability to make you look leaner and slimmer. Now, the width and style of the belt you choose largely depends on your body shape first, and the dress and occasion second. Ultra thin belts are great if you have a well defined curvaceous figure.
Go for dainty metallic chains or braided leather belts with fringes and studs. Now, if your waist does not qualify to be the narrowest part of your body, a medium wide belt would be ideal to make your torso look longer. It shouldn't be too wide like the corset belts or too thin like a rope belt. The obi belt is another great pick to add a stylish bow element to your belted look. They have been popular on the ramps and red carpets too.
Also Read: Sexiest Shoes Around For Women to Wear
Another interesting style tip is to play with the positioning of your belt. If your hips are your best assets, a low slung belt could very well accentuate them. Go for something fancy like a tasseled belt to add that bit of boho drama to your everyday denim. On the other hand you could also pull up your belt to your lower chest to make an empire line definition. However, beware — if you have a fuller bust, this might not be the ideal style. A belt would be a great idea to glam up your plain peplum tops and pencil skirts too.
Pairing Belts with Shirts
Another big question on all our minds is how to wear belts with shirts? Well, it is no rocket science, that much I can guarantee. One possible styling idea would be —
Keep it classy by matching your belt to the rest of your accessories. For a fab work day look, pair up a pencil skirt and tucked in crisp white shirt with a wide leather belt and matching heels or bag. A bold buckle can add a glam element to your look. But keep in mind the occasion. If it is a work lunch, a muted metallic buckle would be more appropriate than an ornamental buckle that glimmers under the sun. However, for a day to night look, the right belt can give you an instant transformation. Look for a unique style either in the belt material or buckle style. Monograms, vintage buckles, creative knotting can all go a long way in helping you put together a look that speaks your mind and fashion sensibilities.
Statement Belt
Finally, we'll leave you with this stunning piece which is a style statement in itself.
Did you just say "So, Pretty"? Now, imagine what would it be like to wear this and be the talk of the town. Feminine and floral, but stylishly bold, this would be a prized possession in anyone's wardrobe. Ideally, this gold leaf belt deserves to grace the waist of a bride in white. But a contrasting black or midnight blue cocktail dress would be great to show of the gold sheen. And that is the best advantage of the belt — where it with anything and you are sure to catch all the attention and admiration.
Also Read: Why Fast Fashion Has No Place in Our Wardrobes
Inspired to belt it up yet? Now, go get your belt collection going and let us know what your favourite belted look is.