Let's be honest: sitting through a boring movie sucks. Life is too short to waste 1-5 or more hours doing something we don't like. But we suck it up because we don't want to hurt our date's feelings, and aren't relationships about compromise anyway?
The problem is, we don't usually take the "torture" quietly and annoy our significant other with complaints or clever digs at the movie's flaws. The good news is, this can all be avoid by picking a film that will appeal to both of us.
Below are our 5 picks for a mutually enjoyable movie night, and to be on the safe side, we've left out epic trilogies and pure romantic dramas.
Also Read: Top 5 Fashion Trends Inspired by The Twilight Movies
Have fun!
1) Stardust (2007):
Stardust (2007) is the perfect example of a multiple-genre, ensemble movie that can appeal to any age group, though it's mostly a wonderful, adventure-filled fairy tale with great visuals.
Based on the graphic novel by Neil Gaiman, Stardust cast stars Claire Danes, Charlie Cox, Robert De Niro, Michelle Pfeiffer, Mark Strong, Sienna Miller and Peter O'Toole. It's narrated by Ian McKellen.
Love-struck Tristan lives in a town where noon is allow to pass through to the magical town that neighbours them. His object of affection, Victoria (Sienna Miller) is a spoiled girl who tells him she'll only be with him if he gives her an actual star. Luckily for Tristan, a star (Yvaine, played by Claire Danes) falls from the sky, though she is in human form.
As she begrudgingly accompanies him in his quest to take the star to his beloved Victoria, they need to face a lot of obstacles along the way, including air pirates, throne-obsessed princes who are out for blood (and the star) and the cruel witch Lamia (Michelle Pfeiffer) who needs the star to grant herself more years of beauty and youth. Things get more complicated when sparks start to fly between Yvaine and Tristan.
2). Jerry Maguire (1996):
Jerry Maguire (1996) Written and directed by Cameron Crowe (Vanilla Sky, Almost Famous), is one of those lovely human stories that entertain moviegoers (over 273 million in worldwide gross against a 50 million budget) and critics alike. It earned Cuba Gooding Jr. the Oscar for Best Supporting actor, while scoring nominations for Tom Cruise (Best Actor) and Cameron Crowe (Best Picture and Best Original Screenplay).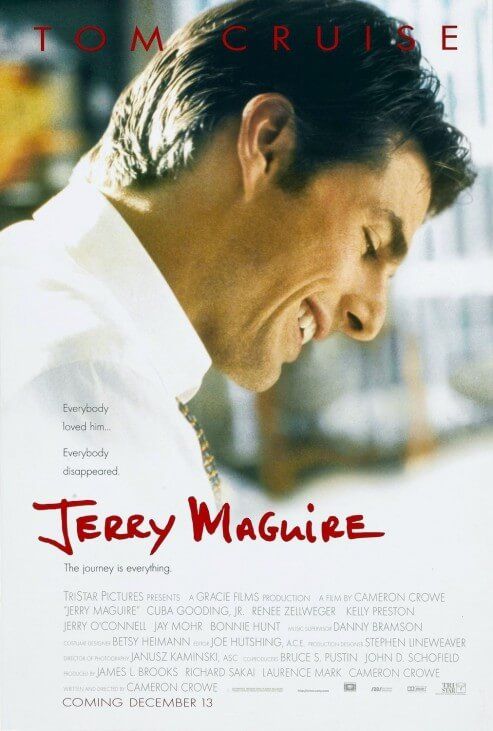 Jerry Maguire (Cruise) is one hell of a sports agent. He's also hot, fun, successful and popular. But when a latest incident wakes up his conscience, the resulting memo costs him his job. He tries to take his clients with him, but he only manages to persuade the pretty, single mother employee Dorothy (Renée Zellweger) and the highly talkative and mediocre footballer Rod (Cuba Gooding Jr.).
Despite the reservations of her older sister, she stands by Jerry and together they start their business. There are many ups and downs in their new professional path as well their seemingly one-sided romantic relationship. Can Jerry overcome all obstacles while being a decent father figure to Dorothy's adorable little son Ray?
Against the competitive and engaging world of sports, Jerry Maguire is a perfect blend of funny and sad, poignant and romantic, adorable and honest.
3) Mr.and Mrs. Smith (2005):
Mr.and Mrs. Smith (2005) is one of those fun movies that demand you leave logic behind as you start watching. And once you don't dig deep, it's one of the most entertaining mindless action comedy flicks around. There's of course some hot, steamy romance included, but it's all in the name of making the action catchier and humor funnier.
Mr. and Mrs. Smith (Brad Pitt and Angelina Jolie), unknown to each other, are two well-trained and deadly agents/hitmen. They are stuck in a routine suburban marriage and are in therapy. But it all changes when they are ordered by each of their agencies to kill each other. That's when their love and skills are tested. Can they sacrifice each other? Or should it be them against the world?
The comedy is element is further enrich by Mr. Smith's "business" partner Eddie (Vince Vaughn), who still lives with his mother.
4). The Last of the Mohicans (1992):
The Last of the Mohicans (1992) is an Oscar-winning (Best Sound), R-rated action adventure drama with romantic elements. Directed by Michael Mann (Heat, Public Enemies, The Insider), it stars acclaimed actor Daniel Day-Lewis and Madeleine Stowe. It's a lot more mainstream and fast-pace than typical Day-Lewis movies, and it doesn't disappoint either in the action or romance department.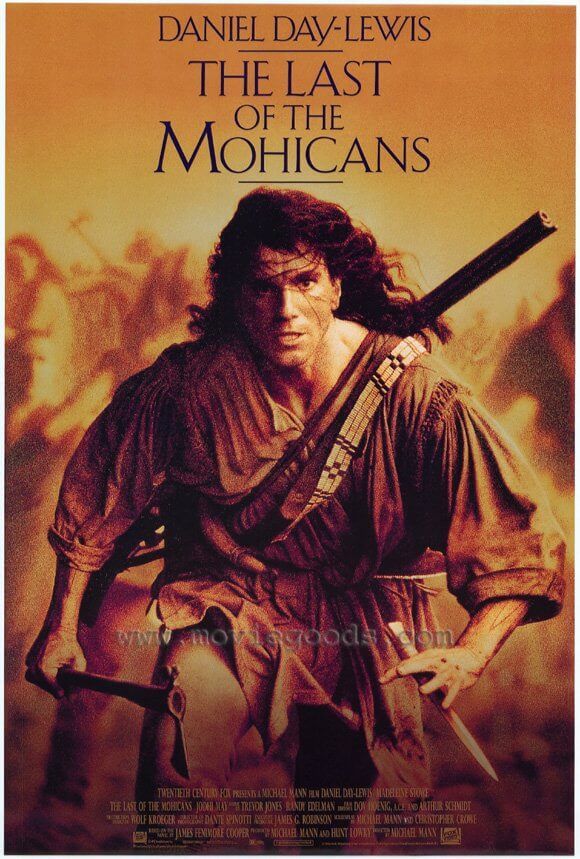 Day-Lewis plays Hawk-eye, a half-white, adopted Mohican that falls for a British woman named Cora (Stowe) in the midst of the French Indian war. They meet when Hawk-eye, his adoptive father and brother save Cora and her sister from Huron Indians and feelings emerge as they accompany them to the under siege British fort. But getting there might be their easiest challenge yet.
5). Speed (1994):
Speed (1994) is a solid action thriller starring Keanu Reeves, Sandra Bullock, Jeff Daniels and the late Dennis Hopper.
This box office hit (over 350 million dollars against its modest budget of 30 million) starts with the disgruntled and psychopathic Howard Payne threatening to blow up an elevator full of people in a Los Angeles office building if he doesn't get his ransom. When heroic cops Jack (Keanu Reeves) and his partner Harry (Jeff Daniels) save the hostages without paying, Howard comes up with another evil plan: he places a bomb on a city bus, and says the bomb will be active as soon as the bus hits 50 miles/hour. If it slows down, the bomb goes off. If someone tries to get off, it goes off.
Also Read: Best Meals You Can Cook For A First Date
So we join Jack for a breathless ride as he finds a way to get on the bus, warn the passengers and keep the bomb from exploding. Of course the human factor will be just as challenging. The movie co-stars Sandra Bullock, and it features one of the more realistic shared stress-brings-people-together romantic sub-plots.
This thrilling movie has two Oscars: Best Sound and Best Effects.